Plantain Flour – 1KG
Discover the delight of cooking with our Plantain Flour, which is produced with care and love from scratch by Olubrooklyn Foods. This flour is incredibly rich in both flavor and nutrition. The 1 KG plantain flour we sell comes in a secure packaging and contains nothing but plantain that is one hundred percent pure, with no added fillers. We at Olubrooklyn Foods are pleased to provide you with food of the highest possible quality, the likes of which you won't be able to find just anywhere.
There are various benefits associated with using plantain flour. As a healthy alternative to other meals, you can take advantage of the various benefits that our Plantain Flour offers. Keeping it in your pantry at all times may be a good idea for a number of reasons, including the following:
Rich in various nutrients: Including more of the vital elements in your diet, such as vitamins A, C, and B6, as well as minerals like potassium and dietary fiber, is easy with our plantain flour, which is a healthy method to add more of these nutrients.
Digestive Health: The high fiber content of plantains contributes to healthy digestion, which in turn helps to keep the digestive system operating smoothly and protects against constipation. Plantains may be found in tropical and subtropical regions of the world.
Energy Boost: Plantains are an excellent source of complex carbohydrates, which, unlike simple sugars, do not cause the dramatic ups and downs in blood sugar that are frequent after consuming foods high in those sugars. This means that you will have a more consistent level of energy throughout the day when you consume our plantain flour.
Gluten-Free alternative: if you're searching for gluten-free options, our Plantain Flour is an excellent choice for producing tasty recipes that are gluten-free and can accommodate a broad variety of dietary needs. If you're looking for gluten-free options, Olubrooklyn Foods Plantain Flour is your best bet.
Versatile Culinary Ingredient: Olubrooklyn Foods Plantain Flour is versatile in the kitchen and can be used to make a wide variety of foods, from fritters and baked goods to pancakes and waffles, making it an excellent choice for any meal of the day.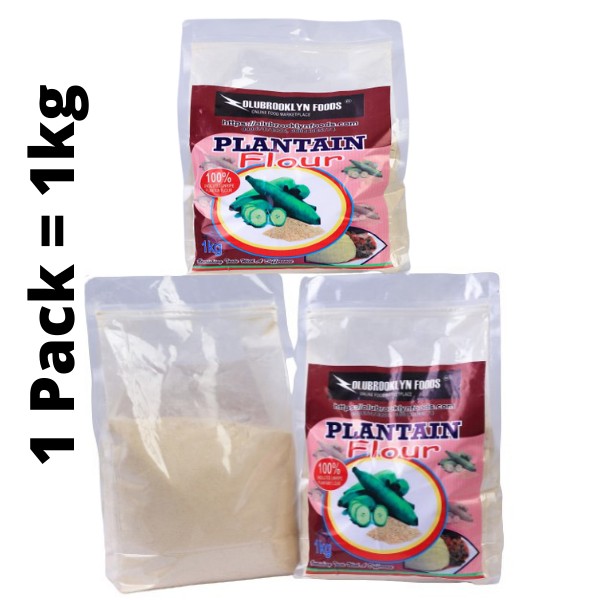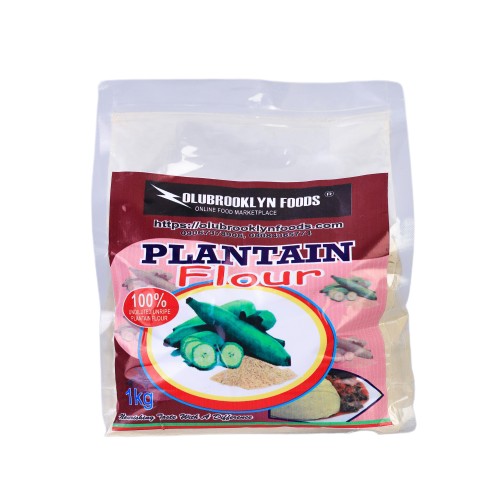 Why Choose Olubrooklyn Foods Plantain Flour? 
Our efforts to provide the highest level of service and quality are unwavering, we spare no effort. If you decide to purchase our Plantain Flour, you are agreeing you will experience:
Natural Authenticity: We do not take any shortcuts in the production of our Plantain Flour, which ensures that you always receive the authentic, unadulterated flavor of quality plantains.
Careful Preparation: we give each batch of plantain flour the utmost attention to detail in order to guarantee the highest possible levels of flavor, nutrition, and freshness.
Unmatched Flavor: What sets our product unique from the other options on the market is the natural, full-bodied flavor of plantains. Our flour captures the essence of real plantains in every bite.
Assured Adherence to the Highest Quality Standards: Each and every time you make a purchase from us, you can have peace of mind knowing that the item will meet or exceed those requirements.
Your food will taste better if you use plantain flour, which can be purchased at Olubrooklyn Foods Plantain Flour. Discover the world of savory and nourishing creations that are just as beneficial to your health as they are to your sense of taste. When you place an order with Olubrooklyn Foods, you are not just receiving a product; rather, you are receiving a high-quality culinary adventure that is certain to please and satisfy you.
In every one of your recipes, work to highlight the plantains' inherent flavor. You can get some Plantain Flour from Olubrooklyn Foods if you want to experience the change in flavor right away.